EIP experts share their summer reads. From ISIS to European values; from the life of a peacekeeper to the battle of Waterloo.
"Revolutionary Iran" by Michael Axworthy
Despite what critics describe as a rather dense, scholarly approach, this is a myth busting book giving a well-informed view of a country whose evolution is central to development and conflict resolution in the Middle East; and one that takes us far beyond the monochrome, simplistic and unhelpful "axis of evil" handle. As the author says, we learn to understand Iran as "less a country, than a continent; more a civilisation than a nation".
Antonia Potter-Prentice
"Emergency Sex and Other Desperate Measures: A True Story from Hell on Earth" by Kenneth Cain, Heidi Postlewait and Andrew Thomson
This is the personal account of three young UN workers assigned to various peacekeeping operations in the 1990s. The paths of Andrew, Heidi and Kenneth interweave in increasingly violent and turbulent circumstances throughout Cambodia, Rwanda, Bosnia, Somalia, Liberia and Haiti. They share a growing sense of disillusionment with the organisation's failure to intervene effectively and its crippling bureaucracy which prompted denunciation of the book's critical nature at the high levels of the UN upon publication. They also share stories of personal drama, joy and hardship as they are thrust by their profession into unimaginable situations and try to keep hold of their humanity.
I appreciated this book both as a student and as a young professional working in the humanitarian field. This is an important read both for those who want to work on the frontlines - and for those who want to remain in the background. It forces a dose of realism onto idealists, and injects some idealism into realists. It highlights the pragmatic challenges faced by international organisations and the human nature embraced and confronted by humanitarian professionals. Offering an intimate glimpse into the authors' experiences and dilemmas, this is indeed the voyeuristic book promised in the title. As such, it is best read in public – at the risk of inviting some raised eyebrows.
Ivan Shalev
"A world without Islam" by Graham Fuller
Written in 2010, this book poses an excitingly provocative question. What if Islam had not existed? Would our world look very different, if different at all? Would it for better or for worse? Through a series of reasonable hypotheses and historical comparative arguments, Graham Fuller deconstructs the argument that Islam is the motive of conflicts around the world and suggests that even if Islam had not existed, our world would look more or less the same (if not intellectually poorer). However, the great thing about this book is not the obvious; the fact that lifts the burden from a religion that has been targeted as the source of violent confrontations, but rather, the idea that Fuller's approach is still relevant even after 5 years when immensely geopolitical changes have occurred in the Middle East. And while one would expect that this book is a product of an academic researcher, Graham Fuller is the former Vice Chair of the US National Intelligence Council and has spent his career lifetime working for the CIA. He does not want to convince the reader, but he invites the reader to challenge and re-consider established notions about the root causes of conflicts, the link between religions and power and the economics of war. No need to fully endorse it, but definitely worth reading it!
Elena Marda
"Le crime et la memoire" by Alfred Grosser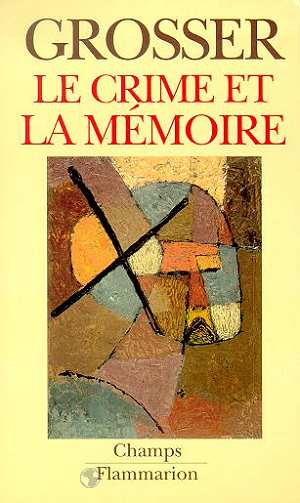 What does Europe stand for? What are our values? Do we need Europe at all? Alfred Grosser's 'Le crime et la memoire' (published in 1989) is a book that can help us to think about these broader philosophical issues. The book not only tells us a story of tolerance and understanding; it also teaches us why we need to deal with our past to be able to engage with "the other" in today's world. Or to put it differently, how to use the past to shape the future. Alfred Grosser is a political scientist, sociologist and French historian of German origin born in 1925 in Frankfurt am Main. His research and teaching have had a huge influence on the Franco-German reconciliation process. In "Le crime et la memoire" Grosser develops the concept of a 'duty of remembrance'. By analysing German XXth century history, Grosser shows the extraordinary political will of German leaders to deal with the past and develop a new democratic form of citizenship and a new political culture. Not surprisingly, this concept resonates with peace builders across the world. But it also teaches us a lesson about Europe. Grosser shows us the origin of the European idea, why it is worth fighting for it and how we can overcome past mistakes. Or in the words of Alfred Grosser: "Oblivion is a threat to humankind; the antidote is our memory which needs to be preserved and transmitted."
Delphine Michel
"Waterloo: The History of Four Days, Three Armies and Three Battles" by Bernard Cornwell
This year marks the bicentennial of the battle of Waterloo. Following a bloodbath that left tens of thousands dead, Europe emerged fundamentally and irreversibly changed. A century of relative peace on the continent (the Concert of Europe), following the deaths of millions caught up in Napoleon's hegemonic ambitions, was established. Not until WWI would Europeans once again tear up the continent for national ambition. 200 years later, Europe is free of conflict and has become a paragon of liberalism, tolerance and peace. Although many of us now take this for granted, it is important to remember our past and appreciate how far we have come. European unity did not come cheaply, it was born on the back of conflict and suffering – we cannot pretend otherwise. Cornwell's celebratory piece allows the reader to both pay homage to the past and celebrate the present. A gripping and digestible account that appeals to both history enthusiasts and casual readers, I would highly recommend giving this book a read. Preferably compliment it with a visit to this summer's Waterloo themed festivities and battle re-enactments!
Evan Tyner
"ISIS: Inside the Army of Terror" by Michael Weiss and Hassan Hassan
No day goes by without another terrible news report about ISIS. But despite this global media presence we still struggle to understand the phenomenon of ISIS. Where do they come from? Do they have political aims? And how do they manage to recruit people to join their campaign? 'ISIS: Inside the Army of Terror' is a (very readable) book that aims to answer all those questions. Written by the American Journalist Michael Weiss, and Syrian analyst Hassan Hassan, the book looks at the history of ISIS starting with the birth of the Islamic States of Iraq (ISI) in 2004 up to the most recent events in Syria. It tells a story of how corrupt governments and state failure contributed to the consolidation of ISIS. One of the most interesting chapters focuses on the recruitment strategies of the 'army of terror'; how it uses the power of social media to recruit its 'holy warriors'. It is a book for anyone who wants to look beyond the news and is interested in a more nuanced analysis. However, I hope the authors are wrong with their bleak assessment that "the army of terror will be with us indefinitely".
Dimitar Dermendzhiev